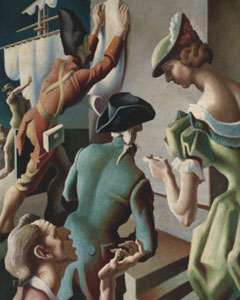 Where: Virginia Museum of Fine Arts
200 N. Boulevard, Richmond, VA 23220
When: Wednesday, June 1, 2016, 6:00 pm – 8:00 pm
Details: Join us for a museum-wide celebration of American art with performances, gallery tours, food, and drink! Special guest Dr. Leo G. Mazow, guitarist and VMFA's incoming Louise B. and J. Harwood Cochrane Curator and Head of the Department of American Art, will give a lecture on the American artist Thomas Hart Benton, who used folk and popular song as source material for several of his works and then perform music that relates to Benton's paintings with his band, The Coverlets.
Dr. Mazow and The Coverlets will do two performances during the evening in the Leslie Cheek Theater.
Cost: This is a FREE event for VMFA members beginning at the Friends level
Click here for more information.