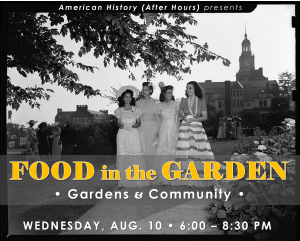 Where: Smithsonian National Museum of American History
14th Street & Constitution Avenue, NW, Washington, DC 20001
When: Wednesday, August 10, 2016, 6:00 pm – 8:30 pm
Details: This August American History (After Hours) goes outside with Smithsonian Gardens for an evening in the museum's Victory Garden! Join us for FOOD in the Garden, an evening of food, drinks, and dynamic conversation exploring the connection between gardens, crops, people, and more.
On August 10, we'll explore how gardens and public green spaces have brought people together to build community, learn, and heal throughout American history. From parks, to victory gardens, to community plots, these green spaces have offered not only beautiful and calming spaces but also a place for civic engagement during critical times. Join us as we celebrate the history of public gardens and try to answer the question: How do gardens foster community and change?
Cost: $40.00, ticket includes hearty appetizers and 2 drinks.
This event is open to those 21 years of age and older.
Click here for more information.